Alliance of Therapy Dogs
Celebrating 30 Years of Sharing Smiles & Joy
Our Mission
We are an international registry of certified therapy dog teams. At ATD, we provide testing, certification, registration, support, and insurance for members who volunteer with their dogs in animal-assisted activities. Our objective is to form a network of caring individuals and their special dogs are willing to share smiles and joy with people, young and old alike.
Our Human Members
We do not rely on fundraising to succeed. No one you see in action nor our testers are paid nor can they charge any fees. Even our board of directors is made up of volunteers. Our only paid employees are our office staff. By keeping our membership costs low, we can provide therapy dog services at no cost to facilities that we visit.
Our Canine Members
We are focused on the well-being and the behavior of your dog regardless of age or breed. We look for well-mannered, well-behaved dogs that enjoy meeting people. While obedience training can be useful in a therapy setting, ATD doesn't require formal training, certifications, or tests other than our own. All dogs tested for ATD's certification must be up-to-date on vaccines and have a negative fecal exam in the last year. There is no restriction on diets or supplements given our canine members.  Dogs may also be fed treats on therapy dog visits if the facility also allows treats. ATD is open to register any breed of dog except wolf or coyote mixes.
Our Testing Process
Unlike other therapy dog organizations, we have a unique testing process that involves handling your dog. Our testing is designed to make sure you and your dog have a good relationship with each other and that your dog has the right temperament for therapy dog work. After the test, a Tester/Observer (T/O) will monitor you and your dog during three visits to facilities that include two visits to a medical facility. During these supervised visits, the T/O will instruct you and your dog on the art of visiting and give you advice and guidance while observing you in action. If all goes well, the T/O will pass you and your dog and recommend you for dog certification with ATD.
Where We Work
Our teams provide therapy in many settings, including but not limited to airports, nursing homes, assisted living facilities, rehab facilities, mental health institutions, schools, hospitals, cancer centers, hospice facilities, college campuses and can also provide therapy in patients' homes. ATD doesn't restrict where our teams visit. ATD teams may choose to be members of local therapy dog groups. They may also participate in nation-wide therapy dog initiatives with organizations like the Red Cross and R.E.A.D. Additionally, we allow our members to visit with teams who may be registered with other organizations.
Our Fees
Registration is very affordable. For $30 a year (plus an initial one-time $15 new member fee), a team can be registered with ATD and covered by our insurance in order to share in the mission of sharing smiles and joy with their dog.
CLICK HERE
Be a Member!
JOIN ATD
Are you interested in becoming a member of the Alliance of Therapy Dogs? Learn how you and your dog can join.
CLICK HERE
LEARN MORE
Want Us to Visit?
WE'RE READY TO HELP
ATD registered therapy teams are ready to visit your facility. You will see many happy faces as a result!
LEARN MORE
Hello from Kearney, Nebraska, the Sandhill Crane Capital of the World! I became a member of Alliance of Therapy Dogs in 2004 and a Tester/Observer in 2009; and I joined the Board in 2011, becoming President in 2021. Each journey step has led me to a greater understanding of the power of the human-animal bond. I believe that education, healing, and comfort come from that very bond. I also believe that whether it is one-on-one or in a group, what we do in Alliance of Therapy Dogs isn't just volunteering! Our teams are vital in contributing to the overall well-being of our communities.
I currently have two dogs. Sigmund is a Bernese Mountain Dog puppy. He is very loving and mischievous, but I see glimpses of the therapy dog he may be someday. Finnegan is a Pyrenees-mix with a loving but protective personality. He isn't suitable for therapy work, but he is right for our family!
I am proud to be President of the Board of Directors. I am in the unique position to see and hear all the beautiful events and experiences our members contribute to in communities across the United States, Puerto Rico, and Canada. I work with an incredible group of directors dedicated to supporting our membership and creating an organization that allows teams to contribute to the betterment of their communities. There is joy in working with our dogs and joy in being part of an extensive network of caring individuals.
Don Vaughan – Vice President
Greetings from the Land of 10,000 Lakes! Though I'm originally from northern Illinois, my wife, Stephanie, and I have called Minnesota home for almost 16 years. A photojournalist and photographer by trade, I also spent a couple of years specializing in equestrian event photography. I have been a member of Alliance of Therapy Dogs since December of 2002, the last 11 years as a tester/observer. I'm entering my seventh year on the board and second year as vice president. I am honored by this opportunity and look forward to serving you and ATD.
Stephanie and I currently share our home with a rescued 6-year-old female Newfoundland, Ila, and a rescued 4-year-old Olde English Bulldogge, Henry. Ila joined us in June 2021 and Henry joined us on Halloween 2021. Both Ila and Henry became registered with ATD in June of 2022.
Besides therapy work, Stephanie and I focus on rescuing giant breeds, especially rare mastiffs. We have owned a Tosa Ken (Japanese mastiff), a Dogue de Bordeaux (French mastiff), and two Neapolitan mastiffs (sometimes referred to as an Italian mastiff, but different than a Cane Corso), as well as a Saint Bernard, an Irish Wolfhound, and a Great Dane mix. Henry, our Bulldogge, is a slight curveball for us from the giant world. However, he is large for his breed.
Our Tosa Ken, Saint Bernard, and Dogue de Bordeuax all had the honor of being registered ATD dogs, as well. Over the years, my visits have included nursing homes, educational seminars, hospice, a local airport, hospitals, church services, and Girl Scouts. However, for the majority of the past decade, my focus has been on correctional facilities, including a federal prison, two county jails and a juvenile detention center. It will be interesting to see what path Ila and Henry take us down.
In addition to therapy work, our Saint Bernard enjoyed hiking and carting. He even gave weight pulling a go. I love to hit the open road with my wife riding shotgun and our dog(s) in the backseat, ready to explore. If I'm not on the open road, there is a good chance you will find me in the kitchen cooking, my other passion. Last, but not least, if there is snow falling from the sky, I am usually one happy camper! LET IT SNOW! LET IT SNOW! LET IT SNOW!
Please continue sharing smiles and joy!
Laurie Schlossnagle– Secretary
Hello from Salt Lake City, Utah!
I am honored to be your new ATD Secretary on the ATD Board of Directors as well as the chairperson of our new Education, Social Media, and Public Relations committee. I have some pretty big shoes to fill as Secretary, as well as some exciting goals for our new committee, and I am looking forward to taking this next big step both for me personally and for ATD!
We still have our four dogs – Dolly (12-year-old Beagle/Boxer mix), Blitz (9-year-old Aussie/Catahoula/Cattle Dog mix), Emme (5-year-old Beagle), and Bellatrix (3-year-old Greater Swiss Mountain Dog) and I also love being a "grandpawrent" to my daughters' dogs – Rafael (6-year-old Shih Tzu), and Auggie (4-year-old Cardigan Corgi). I am privileged to be certified to do therapy dog work with Dolly, Rafael, Emme, and Bellatrix. They all have their favorite visits, so I get to do lots of different things with them – including conferences, memory care units, assisted living facilities, and read to a dog programs.
I am honored to step to the start line with my dogs in several dog sports – Rally, Obedience, and Scent. I also judge all three sports and we dabble in Tracking, Musical Freestyle, Conformation, Tricks, and Games.
My husband, Karl, and I have four children between us (three daughters and one son) – and we are starting to add in-laws to our family! Karl and two of our children are also therapy dog handlers as well as one of our daughters-in-law. We still have our suburban "farm" with chickens and a rabbit, and we always keep our eyes open for other potential animal family members. Our dog training center is doing well, and I love being able to do more to help people as a dog trainer and dog behavior consultant with our own training center. I am, however, looking forward to retirement from full time work in the not-too-distant future! It is truly wonderful that I get to spend time with great dogs and their awesome people in both my job and as a volunteer.
As always, it's a privilege to work alongside all of you sharing smiles and joy!
Tosha Aldridge – Treasurer
Tosha with Louie and Lily
A big ol' hello from Rocky Mount in eastern NC. It is a privilege to have joined the Board of Directors with ATD, and I look forward to all of the wonderful opportunities ahead. I have been involved with dogs in some way, form, or fashion since I was knee-high to a grasshopper. I cannot remember a time in my life without dogs! Currently, we have one certified therapy dog named Lily. She is a five-year-old American Pit Bull Terrier who holds her R.E.A.D, CGC, CGCA, CGCU, TKN, and THDX titles and was Miss September for the 2018 Pinups for Pitbulls. We also have a three-year-old American Staffordshire mix named Louie, and we foster numerous pit/bully breeds with our local rescue, Odin's Orphans.
For the majority of my adult life, I have been involved in rescue and advocacy work. In early 2016, my husband, Shayne, and I stepped into therapy work and I became a T/O later that year. We quickly learned that therapy dogs were not new just to our area in particular, but for numerous surrounding areas as well. Now we have several teams in our area that actively visit hospitals, nursing/rehab facilities, churches, 911 centers, a local children's home, schools, colleges, and more.
Outside of ATD, I own and operate a local dog specialty store with my husband and teach a variety of training classes. While we love any and all furkids, our heart and passion are with the pitbull breeds. We get the great honor of sharing our love for the breed with others through therapy work in hopes that one day we will have helped make an impact of tearing down BSL.
I am very thankful to get the opportunity to work with this amazing organization and continue to help it grow. Always remember, every day is an opportunity to create a positive change!
Monica Callahan – Director
Monica Callahan with Orio and Quint
Hello from the beach! We officially celebrated one year by the beach this year and we still love it! We have already welcomed quite a few new ATD teams in the area and I am so proud of the Myrtle Beach Airport program we got up and running this year. It has been a dream of mine to visit the airport with my therapy dogs, and now it is a reality. I couldn't be more proud of my dogs, my husband (who also visits with me!), and our other airport ATD teams.
We welcomed a new member to the family in November, and we now have five dogs (technically the new guy is my daughter's). Dalmatian Doc is nearing 12 years old, Windsprite Disco is 4, Dalmatian Orio is 4, and Dalmatian Quint is 3. The new guy in the house is named Hip Hop and is also a Windsprite. 
In March of 2022, I successfully completed my second marathon. Therapy dog Orio helped me train for it, completing my 16-mile run with me! I am so proud of her and I for putting in so much work. I've also successfully opened my new training business in the Myrtle Beach area, Family Fido.
Please feel free to reach out to me about anything! We are all available to hear your comments. That is my favorite thing about ATD: how accessible this organization is to the comments and concerns from its volunteers. As we grow, we always strive to keep our mission in mind!
Pat Coglianese – Director, Immediate Past President
Greetings from South Carolina. I have recently moved to South Carolina from New York and am enjoying the wonderful winter weather and friendly people. We have a wonderful group of board members who work tirelessly to make this organization the best it can be and to support our members who, with their dogs, make such a strong contribution to the lives of others.
I have been an educator all my life. Initially, I taught in the New York City public school system and then moved on to the corporate world and became the Director of Education for JP Morgan Chase, a global financial services institution. When I was ready for a change of pace, I studied and became a dog trainer, combining my expertise in education with my love and knowledge of dogs to launch this new career. Working closely with dogs really opened my eyes to the benefit that dogs bring to people, both emotionally and physically. That started me on my journey working with therapy dogs. My current therapy dog, Tia, is a Golden Retriever and also a rescue. She was born and raised in Italy, shipped to the US in the hold of a plane and then her family could not keep her. I was lucky to be able to adopt her and teach her English cues, as she only understood Italian. She is now a bi-lingual therapy dog and loves the work of sharing smiles and joy. Samson, a miniature poodle and my second therapy dog, loves visiting with adults as well as children.
We have found our place bringing emotional support through our work with Alliance of Therapy Dogs. I am proud to be a past president of the Board of Directors and to continue to be on the board. I am also proud of the many members who have helped to improve the lives of so many people.
Hello to everyone from the Pacific Northwest, specifically the beautiful state of Oregon, where I reside with my wife, Brandy, have raised seven wonderful children and have now welcomed our first grandbaby. I feel especially fortunate for the opportunity to work with a great group of people who hold the same passions for dogs as I do.
I have been working with and training dogs for the past 30 years. I became an Alliance of Therapy Dogs member in March 2003 and, in July 2004, I became a tester/observer. I co-founded a local therapy group with my own dog, and I have enjoyed the experience of visiting hospitals, nursing homes, local centers for abused children, daycares, elementary schools, and our local juvenile detention center. In addition to therapy work, I am the founder of the Northwest Mastiff Breeds Rescue and I volunteer with other rescue organizations. I have also established a Canine Crisis Response Team working with the local county school district.
I retired my therapy dog, Simba, a few years ago, and, shortly after that, faced losing him as he came to the end of a full life. I am currently looking forward to rescuing another dog to train as a therapy dog in the near future.
I thoroughly enjoy the experiences I have had volunteering with my dog in the community and my time as a tester/observer. I look forward to many years ahead serving on the board and working with therapy dogs.
Stefanie Giese-Bogdan – Director
A warm greeting from River Falls, Wisconsin! I am so glad that we are finally allowed to visit nursing homes again to bring smiles and joy to people. After some very tough times where we had to be so creative, it feels good to directly interact with people and to be able to have them pet the dogs! Our young dog, Abbie, is now a certified ATD therapy dog and she already gets excited when we get ready to visit people. It is great to have another certified dog; she continues our over 20-year history of working with therapy dogs. Johnny is still our worry bug and remains our reminder that even the sweetest, most affectionate dogs might just not be therapy dog material, and that is okay, too. (And we still realize that taking photos is NOT our strong suit). My husband, Axel, and I are excited to see all the interest in ATD this year; we have tested/observed many teams in the area and we know that some great teams are now joining us in visiting patients in western Wisconsin and eastern Minnesota. I am excited to continue our journey and to serve on the board for another year. We all learned a lot these last few years and strive to utilize the learnings to make our organization even better for the future.
Neenah, Wisconsin, is where I currently live, but I was born and raised in Puerto Rico, giving me the opportunity to be bilingual and to know how to tolerate heat/humidity and snow/cold! I have been an ATD member since 2002, when the impact of a therapy dog team visiting us in a hospital waiting room triggered my interest to get involved. Five therapy dogs (Labrador Retrievers and smooth miniature Dachshunds) and thousands of visits later, I believe in paying it forward. My experience as a tester/observer for several years and now the completion of my first year on the board of directors have enhanced my knowledge of therapy dogs and all that they do.
My passions are swimming (I coached for many years and now I officiate) and dogs (I train, compete, and have a small breeding program that focuses on preserving the Dachshund breed). We have been a law enforcement family here for decades. Often, I find that my interests and therapy dogs intersect, giving the concept of "six degrees of separation" a whole new meaning, and allowing me to meet many great people.
I try to live life with this thought in mind: in a world full of problems, I try to be a solution, even if it is a small one.
I look forward to serving on the board for something that has made a positive difference in so many lives, including my own. If there is anything I can do for our members, please know I will listen.
Sandy Schiller – Director
Hello from North Carolina where I was born and raised. I retired this year and have welcomed the chance to spend even more time doing what I love – spending time with my dogs and supporting families facing the end of life for their loved ones.
My mother passed away under hospice care, and as a result, when I was provided the opportunity, I began working and volunteering for a local hospice.  In 2016, Phoebe came into my life and we joined Alliance of Therapy Dogs. We began visiting hospice patients, hospitals, assisted living facilities, and a Ronald McDonald house. She quickly became known as the Corgi in the Tutu. Hailey and Huxley, retired racing greyhounds, joined our pack in 2019 and quickly took to their new roles as therapy dogs, and we added visits to colleges, a rehab hospital, and a juvenile detention facility to our schedule.
Watching the peace and smiles my dogs provide to the people we visit made me even more committed to the work and to assisting other teams work toward achieving their own amazing experiences. I became a T/O and now I feel privileged to be supporting ATD as a director to continue the amazing work of the teams and the organization.
When not escorting my therapy partners, I compete in Rally and Obedience with Phoebe, and we are working on Agility. She is the first dog I have formally trained with, and while therapy work is our primary focus, she amazes me daily with her performance potential. If only she had a handler who could match her potential, she would be unstoppable. Huxley and Hailey have no interest in performance games other than FastCat, as they take their retirement very seriously. When not visiting as therapy dogs, they do enjoy supervising their sisfur's training and competitions.
Hi y'all from Central Mississippi!! I appreciate this opportunity to be on the Board of Directors and am looking forward to what the future holds for all of us! I began doing visits with Memphis, my first Golden Retriever, in 2014.  I got my second Golden, Ruger, in 2015 and he became a therapy dog in 2017. Memphis went over the Bridge in 2019, and Ruger is currently my only therapy dog until and when Jazz, my Standard Poodle, ever calms down enough to be certified!!
Dogs have been a major part of my life from AKC Dog Shows in Conformation and various Performance events to training Bloodhounds for tracking to establishing the first Prison Dog Program in the State of Mississippi. But my life changed forever in 2005, when on my motorcycle I was hit head on. I was in the hospital for one year; in a coma for 62 days; have titanium in both legs and arms and had 26 separate operations to repair all the damage internally.
It was a daily struggle to not give up until friends brought two Akitas that were registered therapy dogs to visit me and other patients. When I felt the wonderful soft fur of the dogs for the first time in nine months, a new strength formed in me that became a mission! I began to accomplish what everyone, including all my doctors, thought would never happen. My goal was to do therapy visits with my dogs and pay back what had been done for me! And here I am!
My children and grandchildren are grown and live in Mississippi, Tennessee, and Colorado. I have three great grandchildren who live close to me, so they spend a lot of time with Ruger, Jazz, and myself.
I am so proud to be a member of the board and this wonderful organization as we continue to share "smiles and joy" to all we visit!!!
Amy Brockel – Executive Director
The ATD office is seeing an increase in visit requests and new member applications, and we feel those are positive signs that therapy dogs are getting back to work. The effect therapy dogs have on those they visit and the impact we have as a team of 15,000 handlers is precisely why I am so proud to be a part of ATD as a volunteer and an employee.
In July 2021, I was promoted to the Executive Director position following Billie Smith's retirement. I am honored to have earned the opportunity. I know I have big shoes to fill as we all love and admire Billie for the great work she did keeping ATD standards high, while also providing a friendly voice to call when questions arose.
Over the last four years, I've learned so much from Billie and appreciate her support while also letting me find my way as I learned to juggle the endless tasks that come with the job. I am honored to have earned the trust and respect of the very committed Board of Directors, who continue to be my biggest cheerleaders. I hope in the years to come, I earn the support and admiration of our members, as well.
At home, I have a first grader who has plans of being a junior handler and a dog-loving husband who works at an IT development company. We have four endlessly energized rescue dogs and a very large and lovable cat. Life is always busy, but we do enjoy gardening, camping, hiking, fishing, snowshoeing, and skiing. Any activity that gives me time outdoors makes me happy and we fit it in as often as we can. I have been able to volunteer over the last year at reading program and some one time events but many facilities in our area have not allowed us to return to visits yet. I'm optimistic that we will get back to a busier volunteer schedule soon,
Katie Whiteley – Operations Manager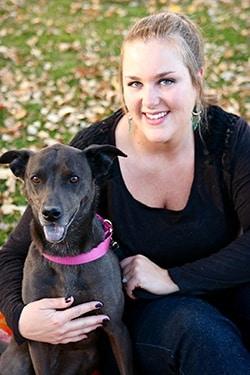 I am 4th generation born and raised in Cheyenne, Wyoming. I have lived here all my life and I enjoy everything Wyoming has to offer. I love hiking, camping, swimming, sunbathing, and anything else that involves the great outdoors! I enjoy spending time with my husband, our three dogs, and one cat. We travel whenever possible and have been to 17 states so far and we hope to be able to visit all 50. We have been to Mexico and the Bahamas and would love to tour Europe someday. The most exciting thing to me about visiting new places is the food and the culture, there's always something new to try and learn.
I started working in the fast-food industry when I was 15 years old. Then, after a few years and a couple of odd jobs, I spent 19 years in the medical field. I first worked with humans at a local radiology clinic and then began to work with animals in a veterinary clinic. I grew up with cats and had no real affinity for dogs after one nearly bit my face as a small child and it stuck with me for years. Thank goodness my dad was close by to save the day! My love of dogs came many years later thanks to my sister when she began working with a local rescue several years ago, and my husband and I fell in love with one of her foster puppies. Winifred fit in quite well with our cats, although they were unsure why I would dare to bring a dog into their home. We have since had four dogs of our own and have fostered nearly 100 dogs, puppies, cats, and kittens. I now have a keen sense of dogs and am able to assist friends and family with questions or problems they may have. Animals are, quite simply, my joy. They are also a lot of work and have caused us to shed blood, sweat, and tears but they are always worth it. We have some pretty amazing foster stories that I am quite proud of and will forever be fond of.
I am delighted that I got to join the team at Alliance of Therapy Dogs. Our mission is one I am proud to be a part of and I look forward to many years of sharing smiles and joy with all of you.
Adriana Boyer – Lead Processor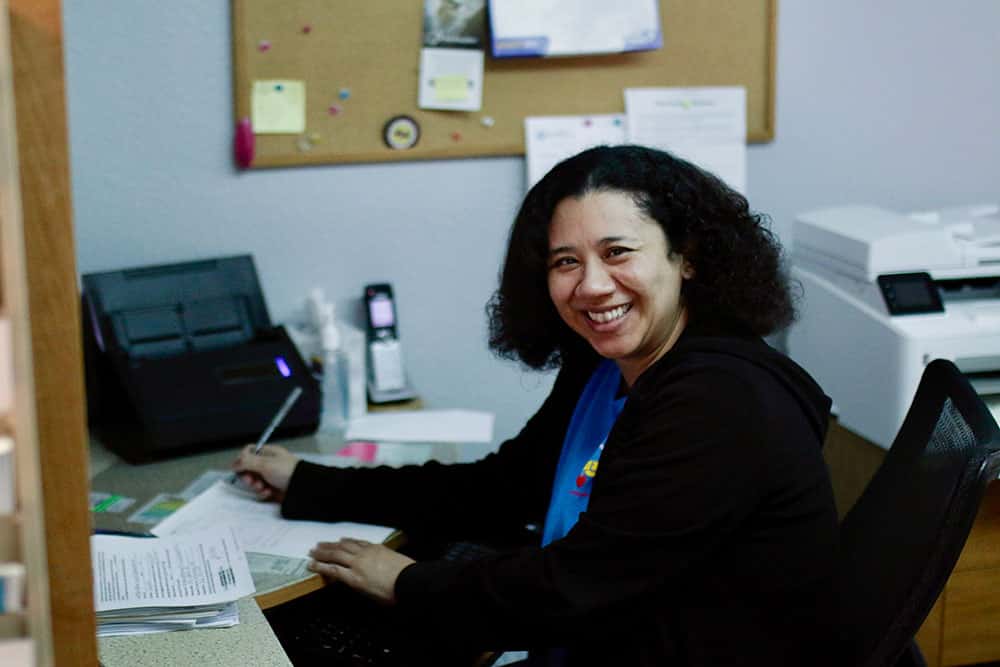 I worked at ATD for seven years prior to moving out of state in January 2019 but was able to come back to ATD in February 2021. I now reside in Cheyenne again with my younger sister and my daughter, who is in high school. On the weekends, we are often in northeast Colorado spending time with family who reside there.
I  am back up to Member Service Rep on phones. Primary person responding to applicants, gathering new member paperwork, payments, as well as following up on incomplete applications and renewals. I spend a good amount of time reaching out to applicants and T/O's for missing documents, signatures, dates or expired items. Once paperwork is complete I then process applications, add accounts to Shopify for merchandise accounts and send out new member packets. I also print and verify daily deposit reports and prepare bank deposits. I look forward to starting work on special projects and am thrilled to be back with ATD.
Bridget Murray- Member Services Representative
Hey all! My name is Bridget. I am a transplant from West Virginia; I, my husband, and two children moved to Cheyenne in 2021. Before moving here, I was the general manager of a national and local award-winning hotel for seven years. I have worked over 15 years in the hospitality industry, and when moving to Cheyenne, decided I wanted to do something different.
Back home, I spent a lot of time volunteering on different boards and committees and finding other ways to give back to my community, like volunteering for VITA, the Humane Society and many other organizations.  So, when offered the opportunity to work in an organization like Alliance of Therapy Dogs, I was more than excited to go to work with an organization whose mission statement really resonated with me. It was a change from what I was used to but still contribute to society in a very positive way.
When I am not working, I enjoy time at home with our two dogs, hanging out with my family, I still try to find other ways to help contribute to my new community, I love many different outdoor activities, music, and reading.
Jared Wadley – News Magazine Editor
Jared, Jordan, Devin and Legend
A very warm greeting from Ypsilanti Township, Michigan. Our family has been active in pet therapy since 2010, when our collie (Bella) happily trotted into patients' rooms at the University of Michigan's Mott Children's Hospital and the VA Hospital.
My son, Jordan, became a junior therapy dog handler in 2013 and is now a contributing member. My other son, Devin, also a contributing member, joined ATD as a junior handler in 2017. We are all part of Therapaws of Michigan, which serves part of Southeast Michigan.
Bella is no longer with us, so the "star" of our therapy team is Legend. This collie, who resembles "Lassie" from the popular TV series, visits hospitals, libraries, and destressing events at the University of Michigan. He also does occasional virtual visits virtually. In 2023, we plan to have our family member, Bree, a young collie, join our therapy team to allow Legend to retire after more than eight years with ATD.
In addition to my therapy visits, I'm honored to serve as an editor of the ATD Newsmagazine. I always look forward to editing your uplifting stories and seeing the wonderful photos. Thank you for sharing your dogs in communities nationwide!
Stacey Shultz-Bisset – Graphic Designer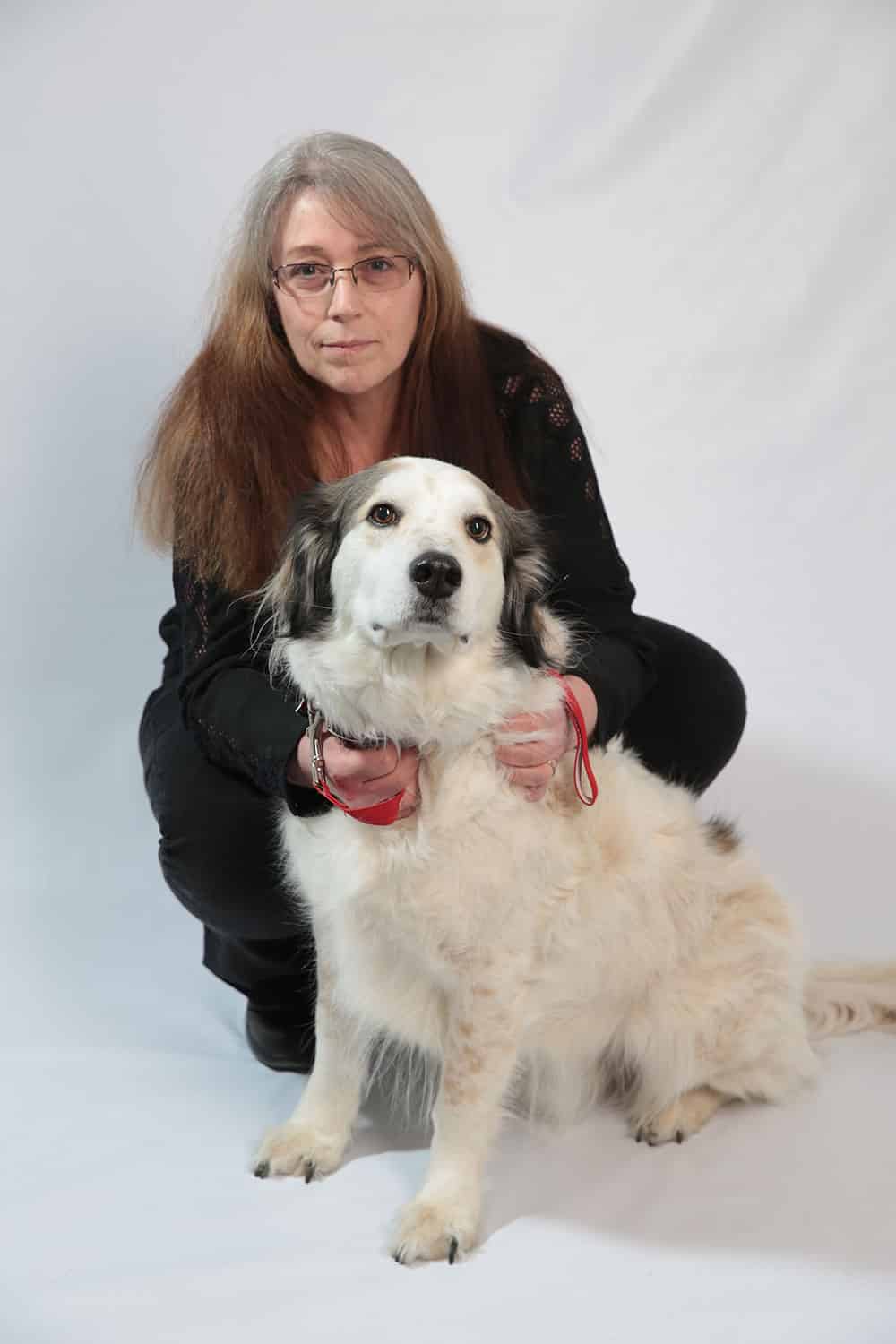 Stacy Schultz-Bisset and Hank
Hello from Wyoming. I am the graphic designer for your News Magazine and Handbooks. I've been with Alliance of Therapy Dogs since 2002 and have been designing the Newsmagazine and the Handbooks since 2004.
I have had five therapy dogs. The first one was Gretchen, a Lab/Newfoundland. She was a diabetic who had a lot to talk about with the diabetic patients we visited at the VA hospital. The second was Hanna, a Great Pyrenees. Hanna was also Santa's dog at Breakfast with Santa at the local hospital. My husband, who was a member of Alliance of Therapy Dogs at the time, was Santa. They were followed by Bebe and Carma, both Newfoundlands. Finally, we have Hank, who I believe may be an Australian Shepherd/Pyrenees mix. He is the smallest therapy dog I've had at only 60 pounds. With all my dogs, I have visited the local nursing homes, hospital, hospice, VA hospital, and local college. As Hank has recently retired, I am in training with Beau, a Newfoundland. I hope he will soon be ready to test.
My day job is at the local community college where after many years of being the senior graphic designer I am now the manager of internal communications and printing.
CLICK HERE
Be a Member!
JOIN ATD
Are you interested in becoming a member of the Alliance of Therapy Dogs? Learn how you and your dog can join.
CLICK HERE
LEARN MORE
Want Us to Visit?
WE'RE READY TO HELP
ATD registered therapy teams are ready to visit your facility. You will see many happy faces as a result!
LEARN MORE